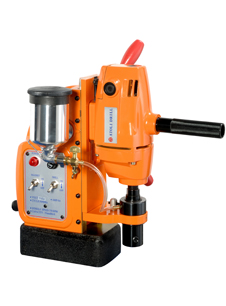 ×
High Speed H Type Drilling Machine
Country of Origin:

Taiwan

Model:

TC-33
‧Bearing Fixation: Shaft fixation designed to be fixed by bearing without having inconvenient on housing replacement.
‧Powerful Suction: Powerful magnetic stone with 800kg suction force.
‧Light Weight: Handy and convenient for carrying. it's weight is only 12.6 lighter than ordinary drill's.
‧Powerful Drilling: Low start device design, and most suitably used for cutting of high hardness steel. Mating to Japanese GIKEN electric drilling motor, the drilling capacity is extremely powerful.
‧According to customer demand manufacture.

Specifications:
‧Power source (Sinde phase): AC 220V/240V 50/60HZ
Motor:
‧Rated Output: 620W
‧Rated Ampaer: 3A
‧No-load Speed: 750r.p.m
Hole size:
‧Diameter: 14mm Thru 35mm
‧Max. Depth: 24mm
‧Magnet Dimensions: 174x94x56mm
‧Magnet Holding Power: 800kg
‧Weight: 12.6kg

Accessories:
1. ATOLI Cutter oil: 1 can.
2. Hex. Spanner: 1 set
3. Center long and short size each 1 pc.
4. User's Manual: 1 copy
5. German-type T-spanner: 1 pc.