Atoli Machinery Co., Ltd.--Riveting machines, pneumatic presses, drilling machines
---
Atoli Machinery Co., Ltd., established in 1974 as a professional marketing firm of a wide range of machinery and hardware. With over three decades of development and production, the company has transformed itself into a machinery manufacturer.
Maintaining a production facility in Tali City of Taichung County, central Taiwan, the company sticks to producing a spate of high-efficiency and high-precision riveting machines. The company uses "Atoli" brand to market its products worldwide.
Since 1981, the company has cooperated with the government-funded Industrial Technology Research Institute (ITRI) to develop innovative automatic drilling machines. It has also participated in a cooperation project sponsored by the Small and Medium Enterprises Administration under the Ministry of Economic Affairs.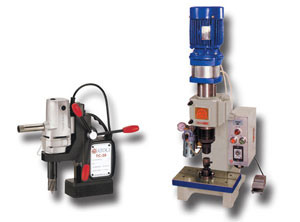 Riveting and drilling machines developed by Atoli.
The company's major products are pneumatic riveting machines, pneumatic riveting machines, hydraulic riveting machines, pneumatic presses, and drilling machines. Hottest-selling products are radial pneumatic riveting machine, portable magnetic stand for drill, high-speed H-type drilling machine, air tapping machine, automatic-feed drilling machine, and precision automatic tapping machine (vertical type).
The company's TC-38 portable magnetic drilling machine is patented for the design of a height-adjustable slide. Equipped with Toshiba-brand powerful motor, the machine has powerful drilling capacity.
Thanks to its long-term dedication to developing sophisticated manufacturing skill for high-end products, the ISO9001-certified company has many product lines patented in Taiwan, Japan, Indonesia, Thailand, mainland China, and Malaysia.
Worth mentioning is that the company won a gold medal at an Invention Award competition activity held in Germany in 1999. The company says its great achievements in acquiring awards and patents can be attributed to its consistent devotion to developing innovative and versatile machines in accord with customers' requirements. (BS)
Atoli Machinery Co., Ltd.
Tel: 886-4-2287-0860
Fax: 886-4-2286-0876
E-mail: sales@atoli.com
Website: www.atoli.com